Whilst I never, ever thought I would be the girl who wore a fuchsia lipstick, I fell in love with this lip colour before even seeing it, I HAD to have it.
In case you didn't already know - Audrey Hepburn is my favourite Actress, with my top 3 films ever being Breakfast at Tiffany's, Roman Holiday and Funny Face.
This shade is also my first ever NARS lipstick, and it definitely won't be my last.
Beautifully pigmented, matte and non-drying of my lips, and it's also quite forgiving as my lips are not in the greatest of shape at the moment.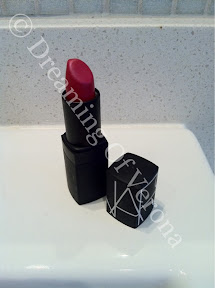 This one is a winner for me, doesn't clash with my new red hair as I thought it might of, and looks good with my current shade of pale skin.
Whilst it's a bit OTT for me during daylight hours, I have been wearing under my Clinique Full Potential in Peppermint Patty for a more glossy daytime/on holiday look.
Best thing about having Blogging friends? Blog Sales!