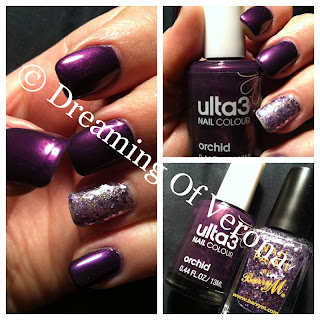 I decided I needed a little bit of bling in my life and I have been looking for weeks to find a way to incorporate my new Barry M glitter polish into a work acceptable mani.
2 coats Ulta3 in Orchid
3 coats Barry M in Lavender on ring finger
1 coat Seche Vite top coat.
I do love Ulta3 polishes, but find it hard to source them in colours I like, I received this shade from the ABBW event at the end of September and I LOVE it.
I think it works well with the Barry M Bling, what do you think?
Products in "Italics" were supplied as a product sponsor of The ABBW - this has in no way influenced my review or opinion of the product. For more information, please read my Disclaimer page.