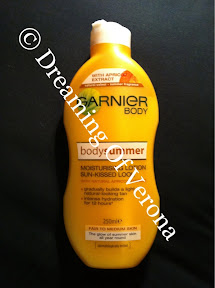 I have a confession to make.
I have always considered myself completely and utterly loyal to Palmers Cocoa Butter products, every Spring I pick up a bottle of their gradual tan moisturiser and I ignore all the other options.
A few weeks ago, my local supermarket was out of the Palmer's moisturiser - and since the Garnier was on special, I picked up a bottle.
My life was changed.
Garnier claims that BodySummer "Gradually builds a light, natural-looking tan" and provides "Intense hydration for 12 hours".
I fully support both these claims.
The formula is light and non sticky, it is quickly absorbed into the skin and has a pleasant fruity scent, which comes with the "natural apricot extract". With other gradual tanners, the moisturiser smell is often replaced with an overbearing chemical/faux tan smell, but BodySummer left only a subtle trace of that.
As for it's ability to moisturise? A+ despite being quickly absorbed, my skin continued to feel hydrated the morning after application as well as being noticeably more "sun kissed" than it did the night of application. After only 3 applications I was at my desired level of tan.
No streaks, and no transfer onto clothing or sheets, and less washing makes for a happy blogger.
My moon tan is gone, and has been replaced with a subtle tan. No Oompa Loompas here.
For those looking for a more noticeable tan fast, I would recommend heading to your local trusted salon for a Naked Tan.
However, I prefer to build my tan at home so that's where these gradual tanners are perfect.
I picked up the Fair to Medium skin - however, it does come in a Medium to Dark Skin for those lucky pre-tanned ladies [Or gents]
The even better news? The Garnier BodySummer is on special at Coles this week, 250mL bottle for $5.56 and who doesn't love a skin smart option on a budget :D