There is something about Twitter, Beauty Bloggers and Hello Kitty that I just don't understand.
Okay, its cat, and its a cartoon, and it's cute. But, up until now I just haven't seen the appeal.
I am late on the bandwagon, BUT, Priceline have released a selection of Hello Kitty goodies including makeup, lip gloss and nail polish! [For more on the range, check out
Beauty in The Sky
]
When I saw the polish, Cat or no Cat, I had to try it out.
I picked up two of the range for $9.95 each/8ml
Grace of Grass and Kawai Coral
I am a bit of a sucker for an awesome coral polish, and this certainly delivered.
Whilst, it is almost identical in colour to OPI "A Good Man-Darin Is Hard To Find" you can never have too many poppy corals coming into summer.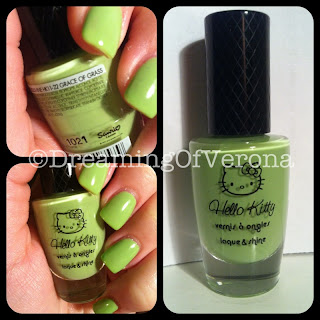 Oh, this colour.
LOVE LOVE LOVE
I do not have a dupe for this shade in my ever growing collection.
It screams summer, yet it's not too bright for everyday wear
The wear time on these polishes isn't too great, but can be fixed with a good top coat.
Formula is quick drying, and is opaque in 2 medium coats.
The brush is a little soft for my liking so I didn't have total control, but I got the hang of it by 3rd/4th nail.
And on to the giveaway:
Just a little something for you Hello Kitty fans who might not have access to these beauties.
Its easy - by commenting below you will go into the drawer to win your choice of polish* AND a Hello Kitty Plushie of your very own.
[And, as always, additional point for
tweeting
/
facebooking
this giveaway - be sure to include us so we can keep track]
Unfortunately, I am unable to post Nail polish internationally BUT, if you don't live in Australia and want this plushie, you are more than welcome to enter.
However, by entering you are agreeing to forfeit Polish component of prize.
Competition closes 5pm - Friday 9th December 2011
Winner will be announced via blog post at 8am Saturday 10th December 2011 and must contact me within 48 hours to claim prize.
*Colours Subject to availability and will be confirmed via email to winner.