I've seen a lot of Nail art using polish strips but so far have not had a chance to try them.
I had been wanting to do some Christmas inspired nail art but haven't have the time.
I found the Sally Hansen Salon Effects in Snow Bunny and thought it was a perfect accompaniment to my left over birthday nail bling.
Especially because I have a non-white, white Christmas planned this weekend :D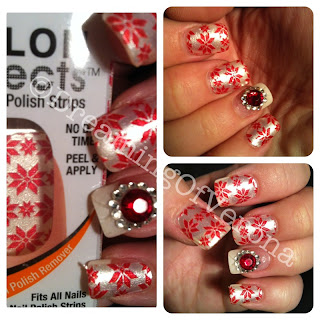 I purchased these from Priceline for $11.95.
I am so uncoordinated at new things but found these incredibly easy to apply.
Note to future users - always use the size up from what you think you need, my first two looked perfect on the sticker but slightly too thin on the nail [as you can see on my pinky nail]
I'll be looking to add to my Polish Strip collection, what are your favourites? Have you tried any other brand?