I bought a scooter! It has pink wheels
Master 3 is currently obsessed so thought it would be a cool thing we could do together.
Especially since his Karate classes are for "Children Only"
My sisters and I have been having WAAAY too much fun with the OldBooth app for iPhone.
Take a photo of your face and upload it on countless number of heads.
We love the 80's edition, which only features in the paid version, but the free version is pretty good.
It's Winter in Australia AND it's cold.
But despite the cold, and the wind, the beach is still really pretty.
Espcially on dusk.
Ugg Boots and Poodle Time
Watching LOTS and LOTS of X-Files and getting all excited whenever Mulder and Scully do something all cute and couple-y.
I am sad that I am up to season 7 and they actually get together at the end of the season, the suspense is the best part.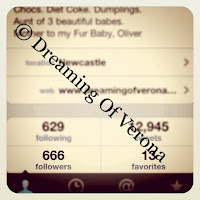 Twitter decided to get a little evil.
Whoops.
It's times like these I am glad I am not religious